Season Ticket Purchase Process
for 2012 Now in Progress
Instructions for current season ticket holders— plus fans who want to purchase season tickets for the first time—is posted on the Allen ISD Athletics Website.
For more information, you can contact the AISD Athletic Office:
AISD Athletic Office
Monday-Thursday 8:00 a.m.-4:30 p.m.
Friday 7:30 a.m.-3:30 p.m.
Phone 972-727-0437
301 Rivercrest Blvd. (across the street from Allen HS)
---
General Admission—Allen Home
Varsity Games
Pre-game general admission tickets for Varsity football games at Eagle Stadium are available at the Allen ISD Athletic Office each Monday through Friday of regular-season weeks. Pre-game sales end at 2:00 on Fridays (or on Thursdays for Thursday games).
| | | |
| --- | --- | --- |
| Varsity Home Games at Eagle Stadium (Fall 2011) | Pre-Game | At the Gate |
| Adults | $5.00 | $7.00 |
| Students | $4.00 | $7.00 |
Prices at other school districts' stadiums vary.
---
JV and Freshman Games
2011 JV and Freshman football prices at Allen ISD facilities (check back later for 2012 prices):
JV, Freshman Home Games
at Allen ISD Stadiums
Pre-Game
At the Gate
Adults
(not available)
$5.00
Students
(not available)
$2.00
Senior Citizens (65 or older)
(not available)
free
(Note: prices at our opponents' facilities are sometimes higher and don't always offer free Senior Citizen admission.)
Athletic Pass—You can buy a 2011-12 Allen ISD Athletic Pass for $25 for adults or $10 for students. This pass admits you to all Allen home games for any sport (except Varsity football) at the middle and high school levels during this school year. The AISD Athletic Office sells these passes during its office hours.
Student Athletic Pass—Student athletes in middle and high school will have an athletic pass sticker placed on their student ID cards by their coach. With this sticker, their student ID will function as their AISD Athletic Pass.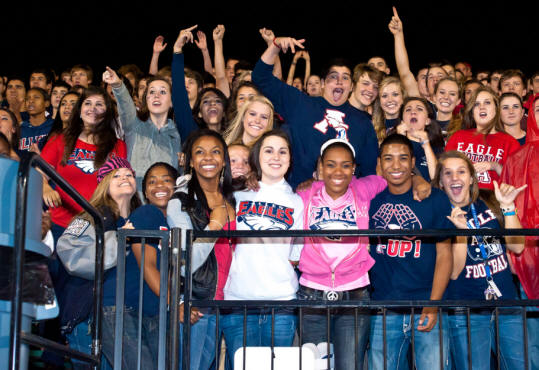 (above) Students cheer on the Eagles from our famous north end zone student section—which will be duplicated in our new stadium in 2012. (Photo ©2010 Yarberry Photography. All rights reserved. Used by permission.)