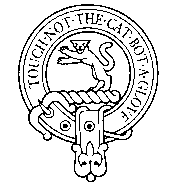 There are various ancestral surnames, better known as Septs, that have connections by heritage to the Clan Mackintosh. Clan Mackintosh itself is a member of the Chattan Confederation of Clans, which also includes the Farquharsons, Shaws, Macphersons, MacBeans, MacPhail, Davidson, Macgillivray, Macqueen, MacThomas, Macleans of Dochgarroch, and MacIntyres of Badenoch.

The Clan is basically a family and the name is derived from a gaelic word meaning children. The Clan system emerged from the old tribal ways of the people living in what is now called Scotland. From around the 10th to 13th centuries more and more names became recognised as Clan names with their own varied histories and genealogies. Clan names are now representative of blood lines and all members of a clan share one bloodline.

Here is a list of the 38 Septs that are recognized as a part of Clan Mackintosh.
Adamson
Ayson
Aysons of NZ
Clark
Clarke
Clarkson
Clerk
Crerar
Dallas
Elder

Esson
Glen
Glennie
Gollan
Heggie
Hardie
Hardy
MacAndrew
MacAy
MacCardney

MacClerich
MacChlery
McConchy
Macglashan
Machardie
Machardy
Machay
Mackeggie
McKillican
MacLerie

MacNiven
MacRitchie
Niven
Noble
Ritchie
Tarril
Tosh
Toshach