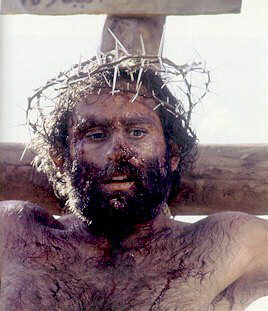 From Bruce's journal: February 9, 1993 — "I hung on the cross yesterday. More when I have time, but simply, I never began to understand what Jesus did for me until yesterday. And I still gained only a glimpse of the reality, the absolute subjection/submission to horror . . . for me. Every believer should wear a crown of thorns and hang on a cross for ten seconds—they would never be the same. And I can't help but feel that every non-believer would accept Christ on the spot if he did the same. I have never felt so alone, so naked, so ugly, so emotionally bare—and I was just play-acting, dipping my toe into the experience of the cross. What He did for us! He chose it! . . . Lives will never be the same. Mine will never be the same. Hanging on the cross. It was awful beyond description—
. . . and I was faking it."


Text and photo taken from In the Footsteps of Jesus, by Bruce Marchiano
(p. 177-178). In Footsteps, Bruce takes readers on an intimate journey into the life of Christ as he describes the Jesus of joy he discovered while immersed in filming The Visual Bible™'s "Matthew."
In the Footsteps of Jesus. Copyright © 1997 by Bruce Marchiano. Published by Harvest House Publishers, Eugene, Oregon 97402 and Visual Entertainment, Dallas, Texas 75248. Used on www.LoveLavished.org by permission.