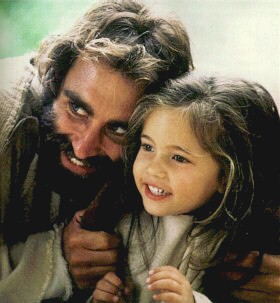 I get asked a lot, "What's the most significant thing you learned through the whole adventure?" It may sound crazy, but it's something I'd been hearing all my life. Funny thing is, I don't know that I ever truly heard it: "He loves you. He loves you so much." It doesn't matter who you are, or how many mistakes you've made, or what anyone thinks of you, or what you may think of yourself. It doesn't matter if you doubt it, laugh at it, or if you love it. There's nothing you can do to change it or make it go away, and it's as real as the ink on this page: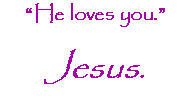 Text and photo taken from In the Footsteps of Jesus, by Bruce Marchiano
(p. 106-107). In Footsteps, Bruce takes readers on an intimate journey into the life of Christ as he describes the Jesus of joy he discovered while immersed in filming The Visual Bible™'s "Matthew."
In the Footsteps of Jesus. Copyright © 1997 by Bruce Marchiano. Published by Harvest House Publishers, Eugene, Oregon 97402 and Visual Entertainment, Dallas, Texas 75248. Used on www.LoveLavished.org by permission.